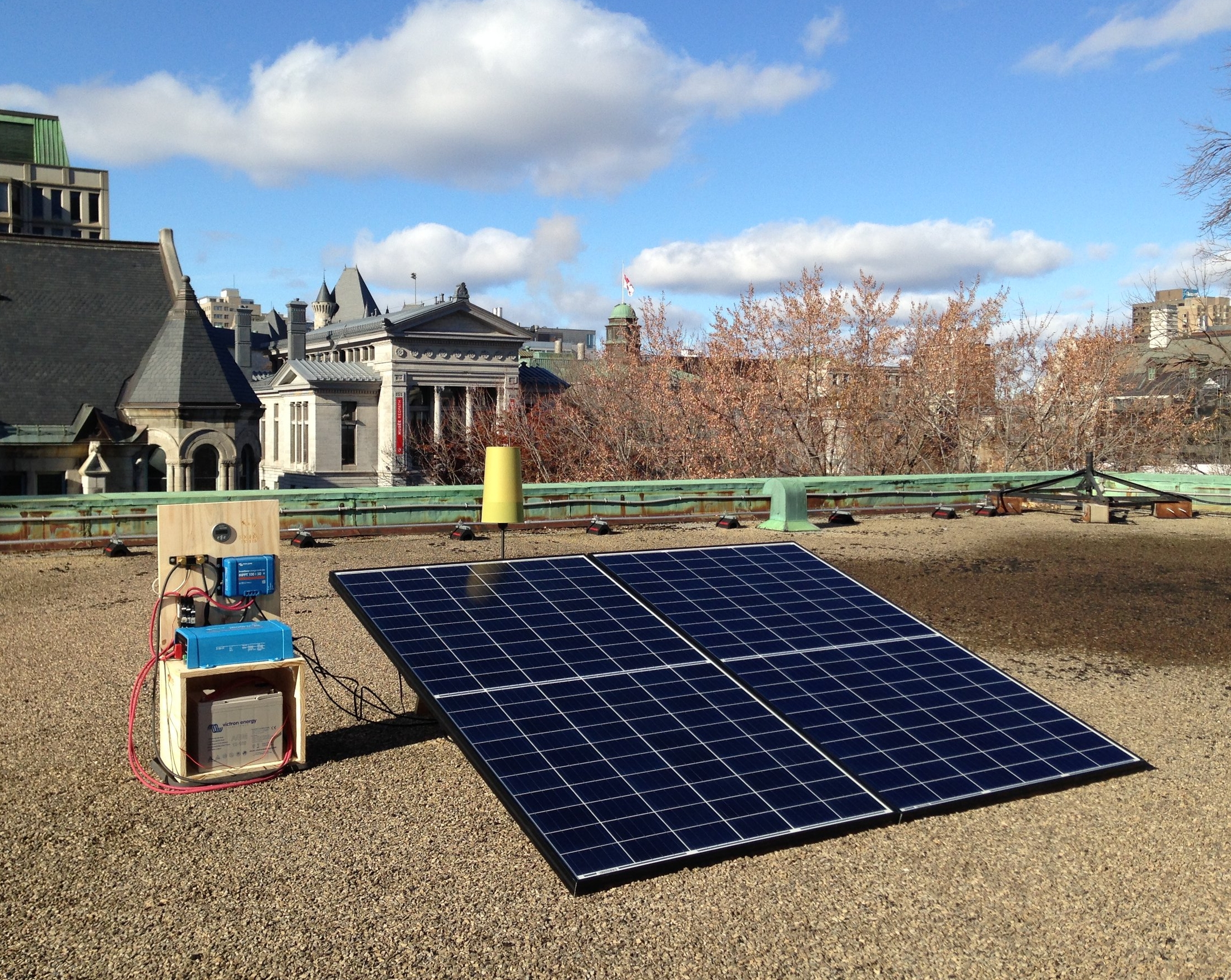 Prototype system installed
Sistema prototipo instalado | Système prototype installé
Our prototype system is now built, integrated, installed and producing energy. With it, we will confirm the final version of one of our self-sufficient solar kits, its performance and the installation and packing procedures. We were able to power on our prototype on top McGill University, in Montreal.
If you like numbers, this is 570Wp off-grid solar system with battery capacity of 1.5 days of autonomy, configured and monitored by Bluetooth. On a typical day in a tropical location, the solar panels will produce an average of 2600 Watt-hour / day.
The prototype is based on the needs of a rural school. You will be able to power 4 leds lights for several hours, operate a fan, charge mobile phones, use a laptop and watch TV and DVD from time to time. It is ideal for isolated locations where electricity is not available. By giving electricity, the goal is to provide communities a proper facility to learn, share and entertain themselves.
Nuestro sistema prototipo ya está construido, integrado, instalado y produciendo energía. Con él, confirmaremos la versión final de uno de nuestros kits solares autosuficientes, su rendimiento y los procedimientos de instalación y embalaje. Pudimos poner en marcha nuestro prototipo sobre la Universidad McGill, en Montreal.
Si le gustan los números, este es un sistema solar fuera de la red de 570Wp con una capacidad de batería de 1.5 días de autonomía, configurado y monitoreado por Bluetooth. En un día típico en una ubicación tropical, los paneles solares producirán un promedio de 2600 vatios-hora / día.
El prototipo se basa en las necesidades de una escuela rural. Podrá encender 4 luces led, operar un ventilador, cargar teléfonos móviles, usar una computadora portátil y mirar televisión y DVD de vez en cuando. Es ideal para lugares aislados donde la electricidad no está disponible. Al suministrar electricidad, el objetivo es facilitar a las comunidades una instalación adecuada para aprender, compartir y divertirse.
Notre système prototype est maintenant fabriqué, intégré, installé et produit de l'énergie. Avec lui, nous confirmerons la version finale de l'un de nos kits solaires autonomes, ses performances ainsi que les procédures d'installation et d'emballage. Nous avons pu mettre en marche notre prototype sur le toit de l'Université McGill, à Montréal.
Si vous aimez les chiffres, il s'agit d'un système solaire hors réseau de 570 Wp avec une capacité de batterie de 1,5 jour d'autonomie, configuré et surveillé par Bluetooth. Dans une journée type dans un endroit tropical, les panneaux solaires produiront en moyenne 2 600 wattheures / jour.
Le prototype est basé sur les besoins d'une école rurale. Vous pourrez alimenter 4 lumières led pendant plusieurs heures, faire fonctionner un ventilateur, recharger des téléphones portables, utiliser un ordinateur portable et regarder la télévision et des DVD de temps en temps. Il est idéal pour les endroits isolés où l'électricité n'est pas disponible. En donnant de l'électricité, l'objectif est de fournir aux communautés des installations appropriées pour apprendre, partager et se divertir.